How to buy the right kettle
Updated 5 months ago
HOW TO BUY THE RIGHT KETTLE
There are several main factors to consider when buying a kettle; firstly who is going to be using it and are there any practical features it needs to have? Decide what features you would find most beneficial (fast boiling time? Lightweight? Non-drip spout? Low on noise?), then think about the style; does it need to be a certain design to match your kitchen décor? Do you want a set with a matching toaster? Or is this not important? Whether you want a kettle that's super quick, boils at different temperatures or one that filters the water, here's what you need to know when buying a kettle.
---
 What to consider
Power
Most kettles have different wattage, usually falling somewhere between 2.3kW and 3kW. The more powerful the kettle, the quicker it boils. Whatever the wattage, the same amount of energy will be used per volume of water boiled. Did you know? Electronic kettles that offer 'keep warm' features and multiple temperature options are often left on standby, therefore constantly wasting electricity.
Boiling Noise
If noisy appliances cause you irritation, then check if the kettle has a decibel reading. As a gauge, a conversation is usually held at 60dB while an electric drill can reach 95dB.
Capacity
How much water do you usually need to boil? A kettle with cup measuring windows will help you boil only the water you need, saving time and energy. If you only boil small volumes then a smaller size kettle may suit you. If you use your kettle to boil water for cooking, then you may need a kettle with a larger capacity.
Weight
If the weight of the kettle is important then consider the material it is made from, especially if you generally fill your kettle to the maximum. Plastic will of course be much lighter than metal. Capacity also effects weight; 1ml of water weighs 1g, so if you don't want a heavy kettle remember 2 litres of water will weigh 2 kilos. Try to only boil the water you need. TIP: Pour water into the mug or pan you are using and then decant this into the kettle so you don't use too much water. The kettle will boil faster, saving energy and reducing your carbon footprint.
Colour
Different colours from bold accent colours, metallic shades, pastel hues and patterns are now widely available, giving the choice of matching your kettle closely to your kitchen interior or opting for a classic colour that will withstand changes in décor. There are many different finishes available too, from polished or brushed stainless steel, glossy polymer to matt effect.
Ease of Use
When lifting the kettle, consider how easy the handle is to grip, if there is enough space between the handle and the body to fit your hand and whether there are any safety or comfort features such as a knuckle guard. If you have trouble gripping, then a push-button lid will be the easier than a lid that needs to be pulled open. A large measuring window with an easy-to-read water gauge and buttons in contrasting colours will help if your sight is limited.
Element
The element heats the water. Most modern kettles have hidden elements in the kettle base. It doesn't come into contact with water, reducing the build-up of lime scale and is also much safer should the kettle malfunction. Look for a boil-dry safety feature, where the kettle will switch off if there is not enough water inside, stopping it from burning dry.
Cleaning
Many kettles have removable lime scale filters that can be washed, though some can be easier to remove than others. A plastic kettle is easily wiped down, whereas a metal kettle will require buffing after wiping to remove smears. Water drips lead to a build-up of limescale, so go for a kettle with a non-drip spout to avoid limescale drip marks and keep your kettle looking good.
Reliability and Repairability
Take a look at the fittings and joins - do any look like weak points? What are they made of? The lid hinge works twice as hard as other kettle parts, opening and closing with every boil. If the hinge looks thin and the lid flexes when you twist it in the open position, then it is very likely to break. If you are investing in a kettle at the higher end of the price scale, it is worth finding out if the manufacturer offers replacement parts. Dualit's Classic Kettle has a fully replaceable heating element.
---
For those happy to invest in a long-lasting kettle with added features such as repairability and quiet boiling or anyone wanting a kettle to match their Classic Toaster.
Superfast, replaceable 3kW concealed element
Repairable or replaceable parts
Patented Whisper Boil™ awarded the Quiet Mark (maximum dB reading of 64)
BPA free measuring windows in cups and litres
1.7L capacity boils water for six cups
Polished, stainless steel finish
Limited selection with colour trims available to match Classic Toasters
Perfect partner to the Classic Toaster
---
The easy-grip silicone handle is heatproof and the hinged lid has a large handle with wide mouth for hassle-free opening and filling.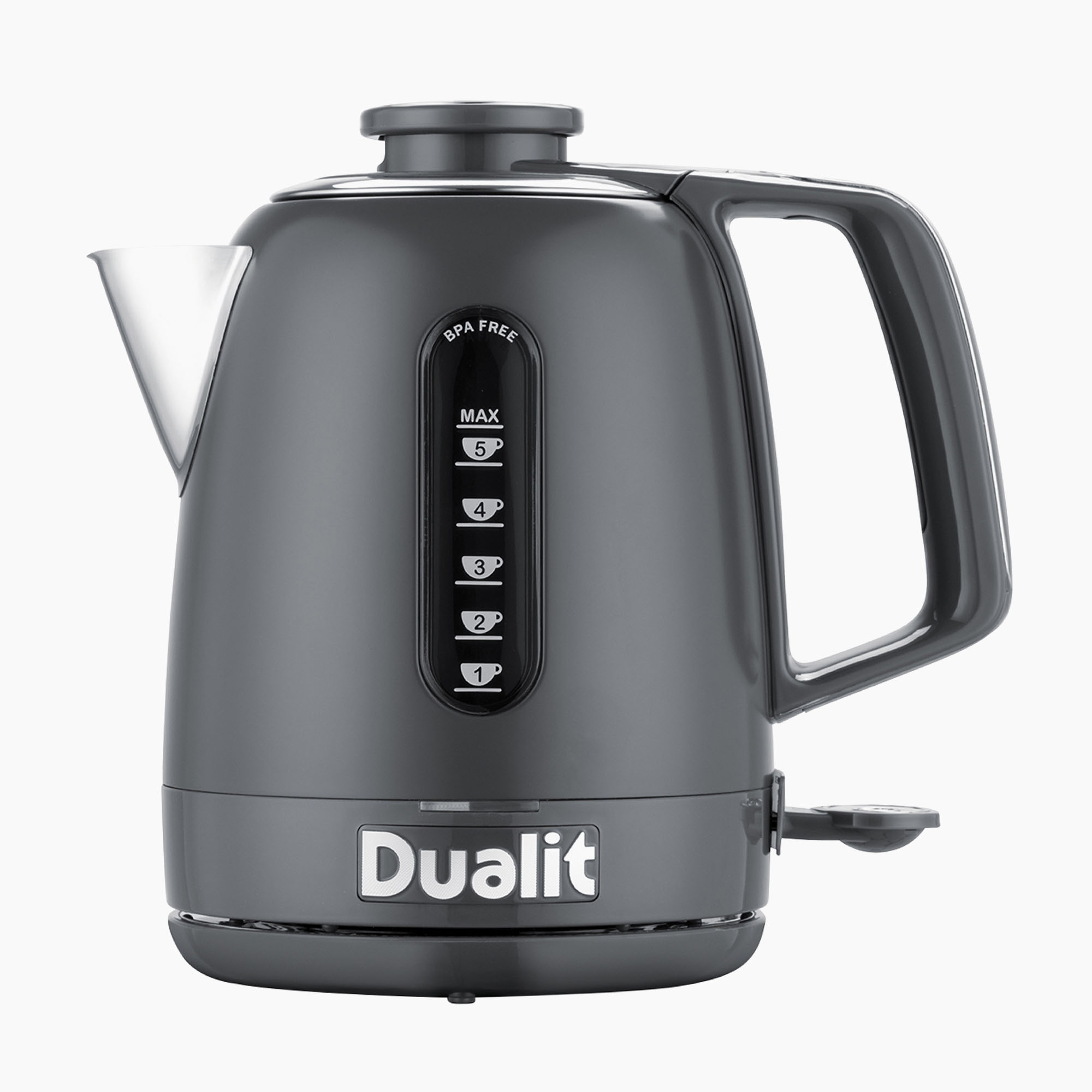 Patented Sure Pour™ technology
Easy to read dual measuring windows in cups and litres
Designed and engineered in the UK
Generous 1.5L capacity
Visually striking, concentric, circular design
Ergonomic silicone handle
360° swivel base with cordless operation
Integral cord storage
Removable, washable limescale filter
---
A must for fans of contemporary design and those who like the flexibility of updating the look regularly.
2.3kW concealed element for rapid boiling
Maximum dB reading of 71.6
Patented Pure Pour spout
Interchangeable panel packs available in a range of bold and neutral colours and designs, to update the look instantly
Brushed and polished stainless steel finishes available
Matching toaster available
---
A great "all-rounder" in a choice of styles, colours and sizes - you will find a Lite Kettle that will fit with most kitchen designs.
Popular "jug" shape
Available in 2.3kW and 3kW versions
Maximum dB reading 71.3 (3kW) and 68.2 (2.3kW)
Large viewing windows with cup level and litre indicators
Can boil water for as little as one cup
Non-drip spout
Easy to open, durable hinged lid with heatproof knob
Ergonomic heatproof handle
Selection of colours available
Polished stainless steel and matt finishes available in the jug design
BPA Free
---
A traditionally styled kettle ideal to fit in with a country kitchen theme. Large capacity makes it ideal for bigger families.
Easy to open hinged lid with heatproof knob
Ergonomic heatproof handle
Polished, stainless steel finish
---
A great value kettle with high build quality and patented technology. Ideal for those looking for a kettle that is lightweight and easy to handle.
Sure Pour™ technology for a no-spill, easy-pour action
Large print measuring windows
Lightweight polymer construction
Maximum dB reading of 77dB
Choice of colours and finishes
Matching toaster available
---
A smaller, lighter kettle ideal if you only need to boil small amounts or for one person, or for small kitchens, caravans or holiday homes.
Popular "jug" shape
Two viewing windows with cup size indicators
Easy to open hinged lid with heatproof knob
Ergonomic heatproof handle
Polished, stainless steel finish
Buy Now
---
The ideal kettle for anyone who requires a precise brewing temperature or an accurate pour over ground coffee.
Gooseneck spout for accurate pouring
Temperature controlled
Hold function to maintain temperature for five minutes
800ml capacity
Digital display screen
Control dial to easily adjust the temperature
Matt black finish
Was this article helpful?